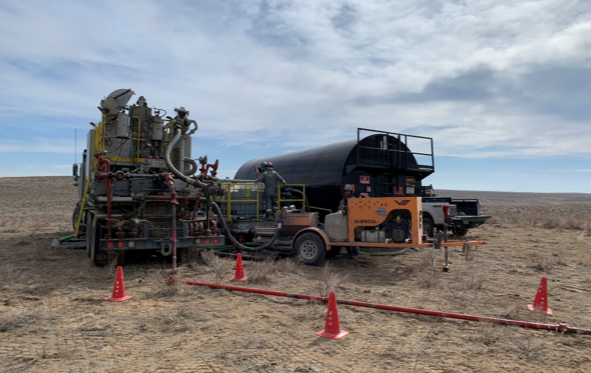 As of September 2022, QuartzPack has been utilised for different applications in between 150 and 200 wells in Colorado and Mississippi, US with a success rate of more than 90%.
A paper, studying 83 of these wells, will be presented at the SPE Annual Technical Conference and Exhibition (ATCE) in Houston October 3rd, 2022.
The paper, authored together with Chevron and NexTier OFS, will discuss how QuartzPack successfully has been utilised conducting rig-less Mechanical Integrity Test (MIT) operations in temporary abandoned wells in the DJ Basin, north of Denver, Colorado.
The conclusion from this study is that QuartzPack is an excellent sealing material, easily placed across the perforation interval, acting as a plug the production casing can be pressured against and tested/ verified for the integrity of the casing.


The Colorado Authorities' regulations require old temporary abandoned wells to be regularly tested to ensure the integrity of production casings to avoid leaks from hydrocarbon bearing zones into the underground and especially into freshwater aquifers and/or to surface.
The unique features of QuartzPack, being a "green", non-hazardous (natural ingredients, quartz particles and fresh water) material, with extremely low permeability, non-curing (Bingham Plastic characteristics), no micro annulus, no fracturing, pre-mixed for instant use at site (low personnel/environmental HSE exposure and guaranteed quality), compatible with all fluids and gases, non-degradable and with excellent LCM effects, has again proven its incomparable, attractive and cost efficient solution.
The presentation will take place Monday October 3rd in the George Brown Convention centre at 02:50 PM, section 13, "Well and Surface Operations – from Clean-up to Production" and presented by a NexTier OFS representative.
FloPetrol Well Barrier personnel will be present during the event and available for consultation and discussions of how QuartzPack can be utilised for other applications as well, to effectively act as a seal barrier in all phases of a wells life time, from initial well construction to final P&A.
You are all welcome to participate and listen in on in this exciting speech.
Want more information about QuartzPack? Download our free introduction.